April 30th, 2008
Day 56, June 25th, 2008 
My arrival at Venice Beach!! Pictures speak a thousand words! So, enjoy!!
Thanks to everyone who gave me such a wonderful and enthusiastic LA welcome! Liliane, Ann, Mark, Kathy, Barry and Yvette. Also the friendly Swiss tourists, all the kids on their school trip, the cool lifeguard AND the local cops from LAPD!!
Here I am in my top hat and tails!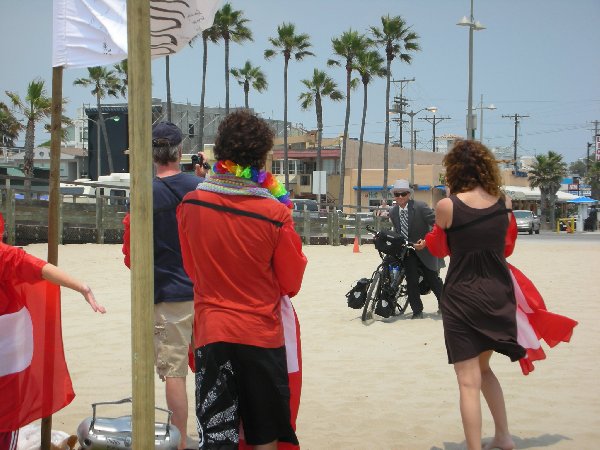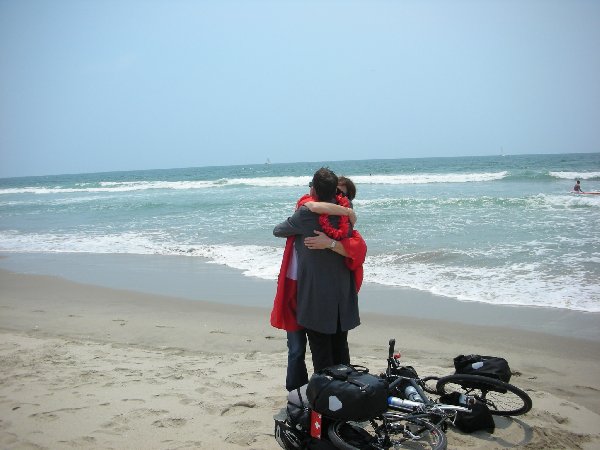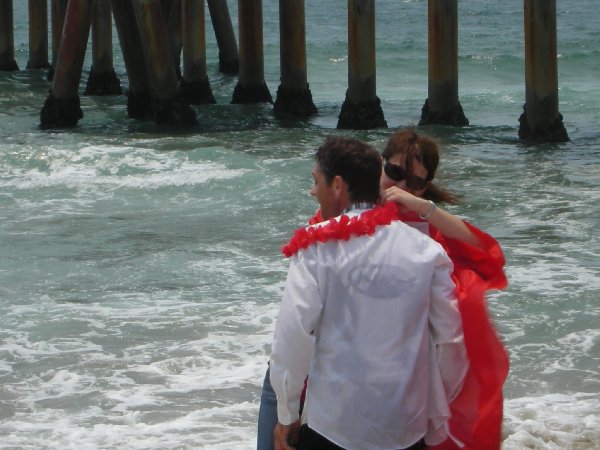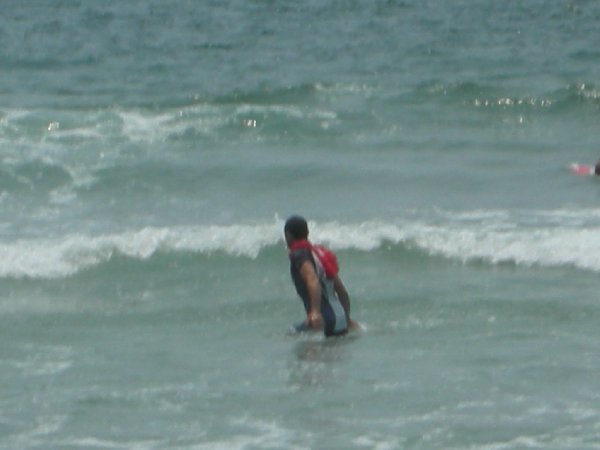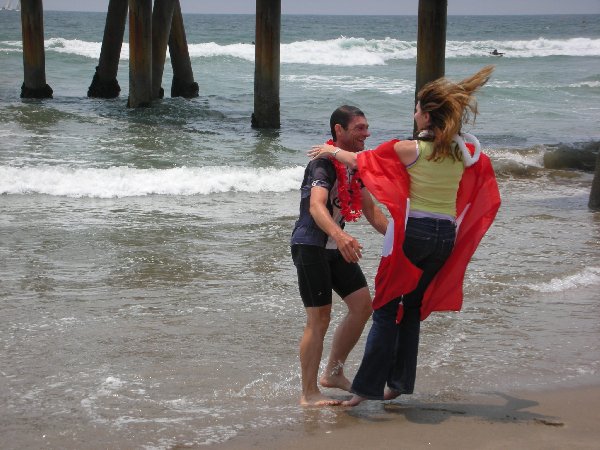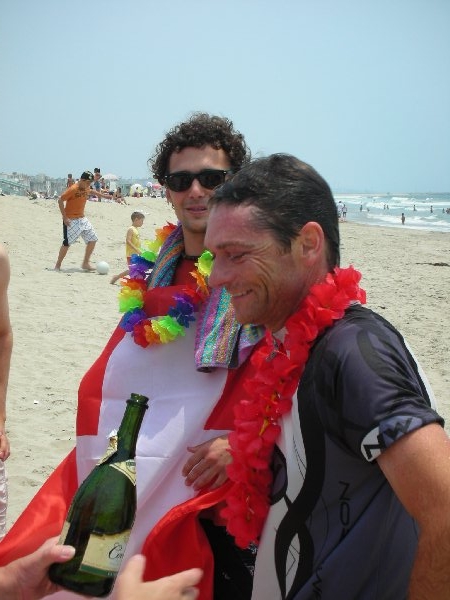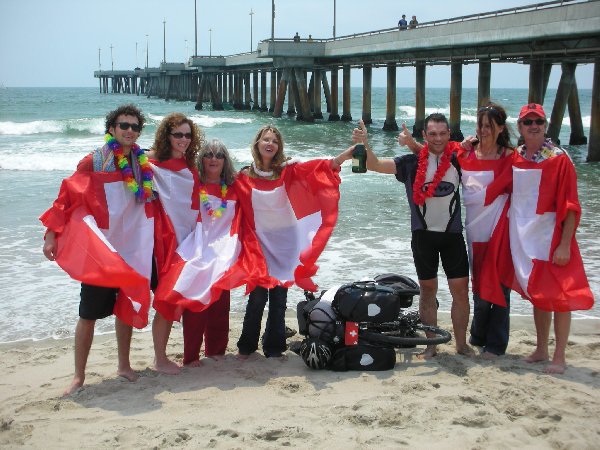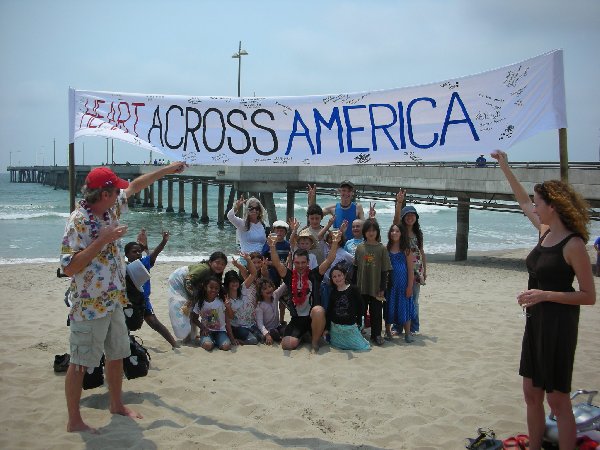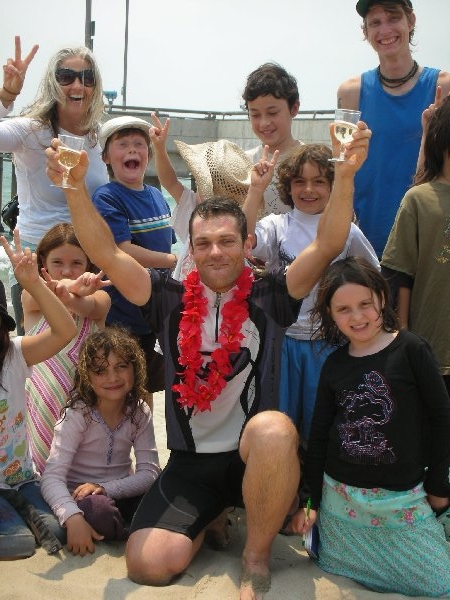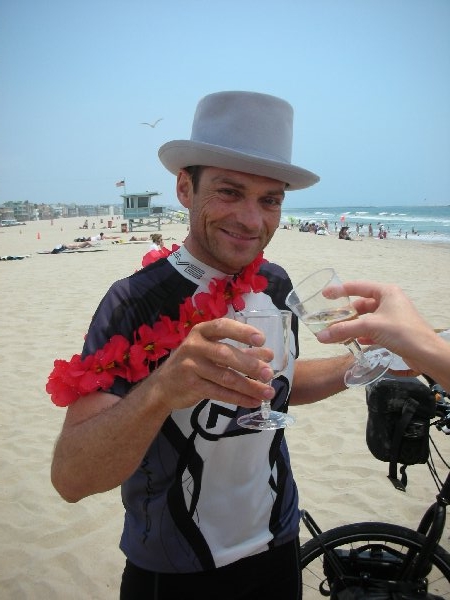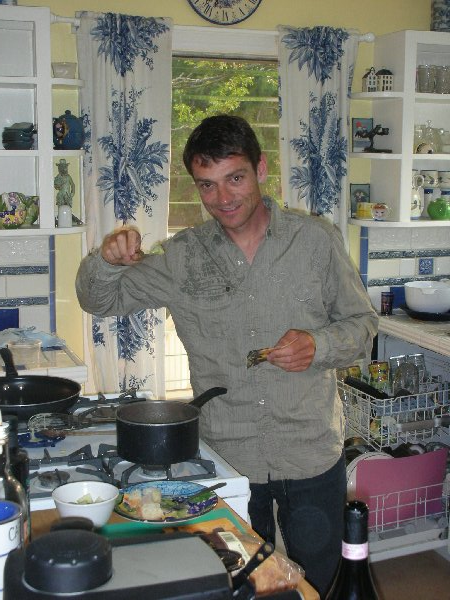 M & L = Means Love!!!!!
I still need a little time to absorb everything and sieze what I have really accomplished! In the meantime, I seized Liliane and here we are above at Anne & Mark's house. I can only say, it all feels GREAT and I am enjoying every minute!!!
Greetings to all from sunny California!

Martin
Day 55, June 24, 2008 
It is 24 June and 9:00 at night. After weeks spent cycling 5,000km I am resting and ready to hit the Pacific Ocean tomorrow!. The feeling is indescribable!
Greetings from a second night in the Jim Morrison room, Martin
Days 53 & 54 June 21 & 22, 2008
Today was the final countdown Р70km through the suburbs and Downtown LA!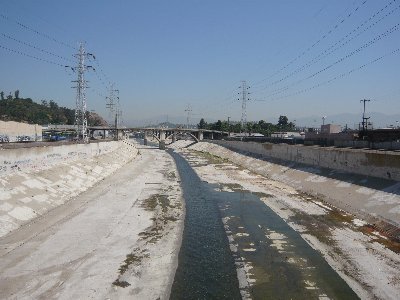 The bed of the famous LA 'River' (actually an aqueduct). You may have seen it in movies.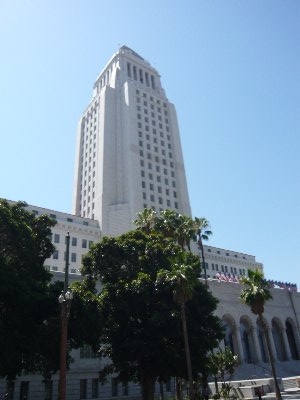 The historical LA City Hall, Downtown.
The whole journey today (70km/50 miles) was stop-go – as I caught every light in town! But it was totally easy. I'm through! The sky was overcast, so I didn't see the Hollywood sign nor the beach, but I checked into a secret place — Room 32 at the Alta Cienega motel — where Jim Morrison lived for two years, from 1968 – 1970

Tomorrow, I will cruise the last few kilometers along Washington Blvd down to the beach for my grand finale!! Who knows what will happen there! I will send you photos of my arrival on the sand. It's hard to believe that after 1.5 years of planning, my dream has come true ! It seems so surreal!
I would like to thank everyone who gave me so much support — whether in the form of materials, messages, e-mails, or simply your good and positive thoughts.! MANY THANKS !!!!!!
Greetings from the Jim Morrison Room, LA
Martin
Days 53 & 54 June 21 & 22, 2008
These two days¬†deserve the title: 'ÄúI survived the battle of the¬†heat!'ÄĚ But there's another story to tell. Yesterday, Saturday, I¬†wanted to start off at 6AM, but needed¬† to get some cash, so I used the ATM machine at Washington Mutual bank. The machine swallowed my card and gave me no cash! I had to wait 3 hours for the bank to open! When I returned there, I was told that my card had been manually destroyed because it wasn't a familiar credit card!¬†I spoke to the deputy manager who told me this was bank policy and there was nothing they could do about it!¬†I was furious. Surely they have no right to do that? I called my bank in Switzerland, who said my card was perfectly good. I had used it all across America with no problem. I have another card – a Mastro debit card, but, as I have mentioned before,¬†I have forgotten my PIN number! I was stuck!
Luckily, Yvette and Barry in Los Angeles came to the rescue. They managed to wire money via Western Union. The Western Union agent was in a local liquor store. Ironically, the store was called Swiss Liquor!!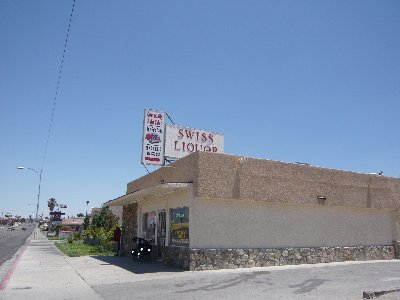 The Swiss Liquor store where I got my cash
By now, it was 1:30PM and I had missed the cool part of the day, but I was determined to bike on. This next stage was 60km through no-man's land. Wow, the heat was really bad, so I progressed as simply and slowly as possible. After a while, I saw a Western-style bar ahead. Was it open? I was in luck, and was able to get ice and cold water. What a relief!! Brian and his son, Randy, were so helpful. We chatted for a while and they told me that Julia Roberts made part of the movie Erin Brockovich here. Also,Quentin Tarantino spent two weeks here filming part of Kill Bill II.
Once refreshed, I moved on in the heat and a little wind.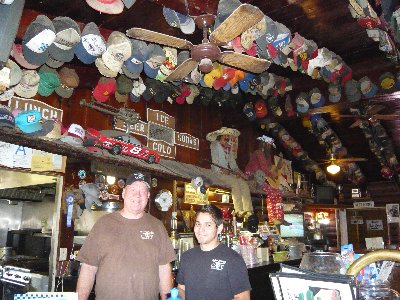 Brian and his son, Randy
Today, Sunday, I set off as usual at 6AM. It is beautiful to cycle through the desert at this time of day.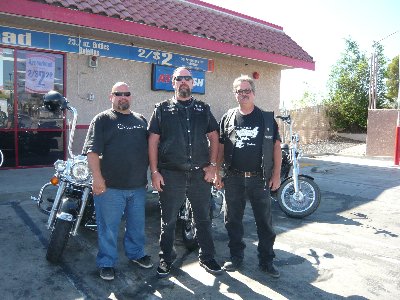 Fellow bikers Bob, Chase and James on their way to church!!
Shortly after 9AM I branched onto highway 2, which should have taken me into the hills and forests above LA. By this time, it was already hot and after an hour's climb, I earned myself a coffee. It was then I met Leo. He asked me which way I intended to go. I explained along the 2 past La Crescenta. He raised his eyebrows in surprise and explained that the road had been closed for two years due to a landslide!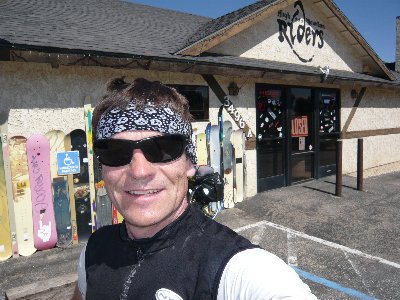 In this searing heat they still sell snowboards!
Now I had to change my route and cycle the rim of the San Bernardino mountains. This was a beautiful forest ride and anyway, I have plenty of time to get to LA.
After 135km I am now in Rancho Cucamonga and the beach of LA is mine for the taking!!! I can hardly believe that I am just 2 days away from the end of this epic journey !!!
Greetings from Los Angeles county, Martin
Day 52, June 20, 2008
Yesterday, when I switched on the TV in my air-conditioned ūüôā room, I caught the weather forecast and they warned of record temperatures.¬†They advised people¬†to drink plenty of water and to take care of the elderly and pets. But¬†I pedaled¬†on another 100km in the¬†heat!
One of my stops under the shade of an overpass.I set off at 6:00 and around 12:30 I reached Barstow. I really don't know how I withstood that ride! The temperature was so high, the water in my bottle was as warm as shower water and, as the sweat from my face hit the bike, it sizzled on the metal and immediately evaporated. Fortunately, I found a motel with a pool and so was able to cool off.Greetings, Martin
Day 51, June 19, 2008
Greetings from the famous Area 51 — UFO's and aliens!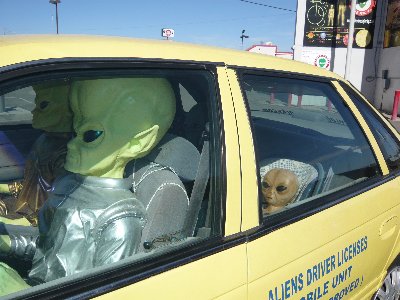 For me it is June 19th, but in Europe it is already the 20th. So, Domenic: HAPPY BIRTHDAY !!!!! Have a good party, all the best and lots of love! Martin Götti.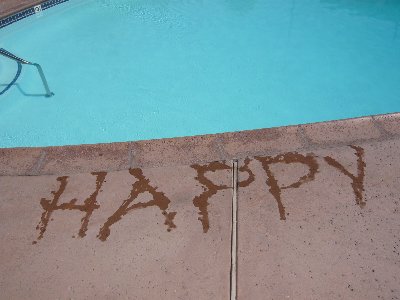 The alarm clock woke me early this morning and I was out of bed by 5:00! I rode for a few pleasant early morning hours, but by 10:00, it was turning into a super-hot summer's day. Nevertheless, I progressed well. I had no choice but to take the 15 freeway, which was quite scary, but my only option. The traffic was terrible, but my old friends, the trucks, pulled me forward with air suction again and again.
It is unbelievable to see the amount of rubbish that has been tossed along the roadside Рincluding odd items like jackets and winter boots. I even saw a water pistol!
Around 1:30 I had completed 140km. The temperature, now 108F, was getting dangerous. I found a small motel with a pool and cooled off.
Now, after writing my notes, it is time to jump in the pool once again!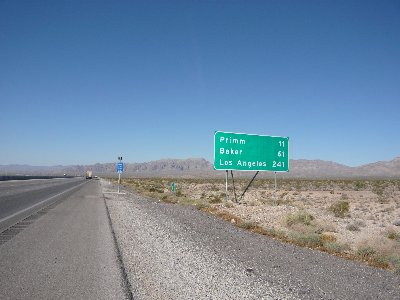 Day 50, June 18, 2008
After several marvelous days with Richard and Ursula (many thanks), I returned to Las Vegas by car. The 680 km drive took 7.5 hours. I returned the rental car and am now dependent on my bike one again. Happily, I have only 230 miles remaining!
The next two days will be windy, flat and very hot, but with the end of my marathon journey in sight, it should be an easy task! On June 25th, I will cycle down Washington Blvd in Los Angeles and ride onto Venice beach!!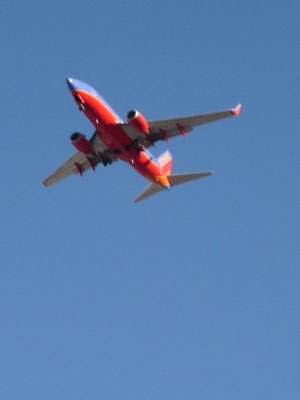 This evening's view –¬†under the flight path of Las¬†Vegas Int. Airport.
Take care, Martin
Day 49, June 17, 2008
This was my last day with Ursula and Richard. I¬†did my laundry, packed up my things and checked the bike.¬†In the morning, I will be on my way to Vegas, where I will spend one¬†night in Sin City!… Then I will tackle the last few hundred miles to the California coast!¬†Here are some pictures of¬†Ursula and Richard's lovely¬†ranch…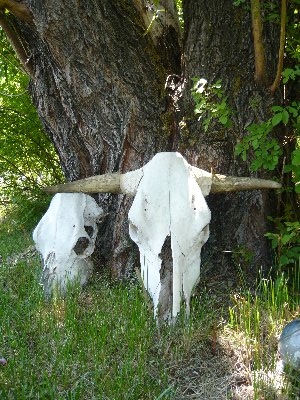 Garden ornaments!!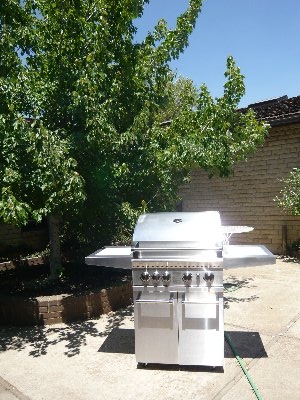 I¬†completed the assembly of¬†their new¬†BBQ – keeping in mind that I may be able to use it in the future¬†to grill steaks and ribs!!! ;)))¬†If you are interested¬†in reading about¬†Richard's "Baby" –¬† an aircraft that will revolutionize aviation – check out his site here: www.aerioncorp.com
Martin
Day 48, June 16, 2008
First, the work……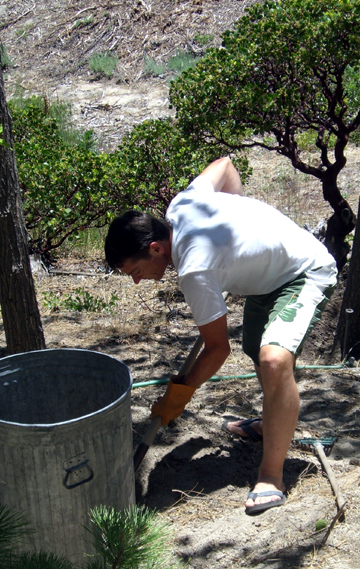 …and then the fun!
To go with the sorbet, there¬†was vodka… but just a small bottle… ha ha!!!
Martin
Day 47, June 15, 2008
Today, Sunday, was really laid-back. Richard made his famous breakfast waffles which we ate with maple syrup and fruit. Yum!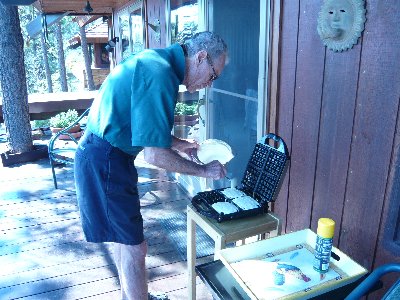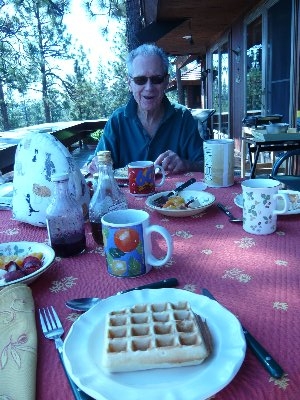 Around noon, I went to South Lake Tahoe to visit Serge, Lily and her parents Рwho are from Colombia. Serge is from the Swiss Engadine, but has lived in CA/NV for 20 years.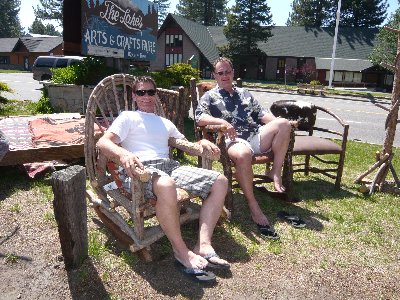 After a wonderful lunch, Ursula, Richard and I went to Zephyr Cove to visit their friends, Lana and Steve who have a fabulous home right on the water.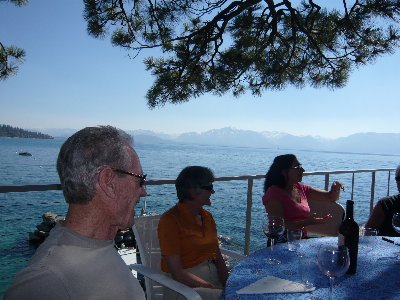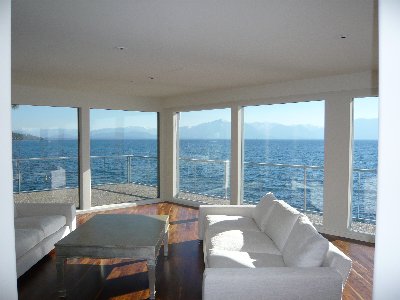 Wow, what a view from the living room….!
Have a great week! Martin
Day 46, June 14, 2008
Today?… mostly¬†photos! Enjoy!!!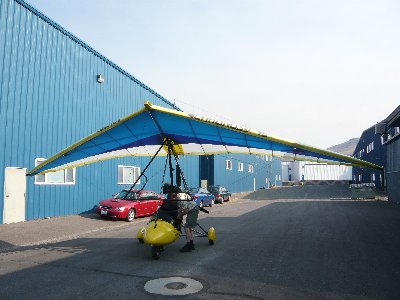 Preparing for takeoff in Paul's Ultralight!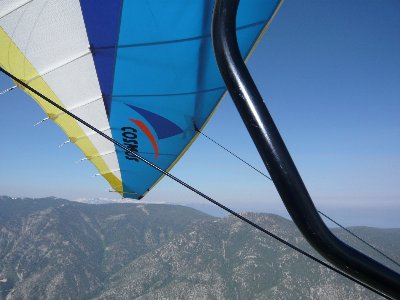 During the flight, with Lake Tahoe on the horizon.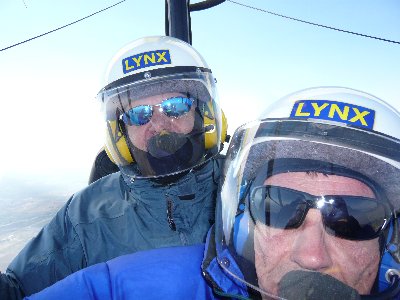 Paul and Martin, dressed warmly at 10,000-feet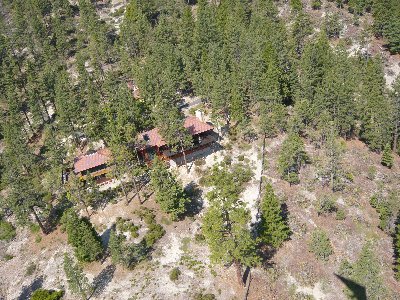 My "vacation house" from the air.ÔŅĹ

You can check Paul's Ultralight and aviation site here: www.adventure-productions.com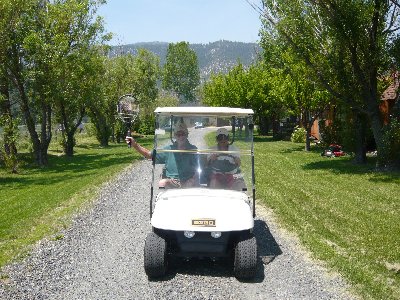 Ursula and Richard on the way to tennis!
Day 45, June 13, 2008
Ursula, Richard and I spent the afternoon at the Vespa dealer. Ursula is looking for a scooter and wanted to see the colors that are available. The choice is great. With rising gas prices, a scooter is an economical form of transport and is also fun.
I then made it to the hairdressers… but only have¬†a 'before' picture!…¬†

Tonight we were invited¬†to dinner at Lauretta and Paul's. Once again, it was a¬†wonderful feast… with BBQ'd salmon and fine wine!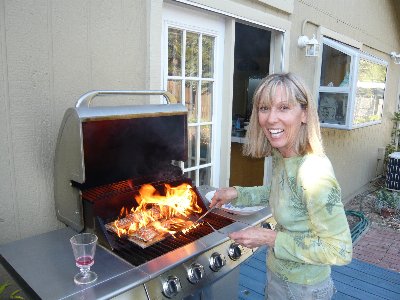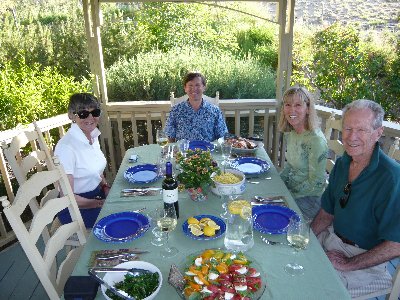 If all goes well tomorrow, I will be in the air with Paul!!
Take care, all of you, Martin…………………………… Lilian, miss you……
Day 44, June 12, 2008
Today, I experienced what was probably my most beautiful mountain-biking trip here in the USA!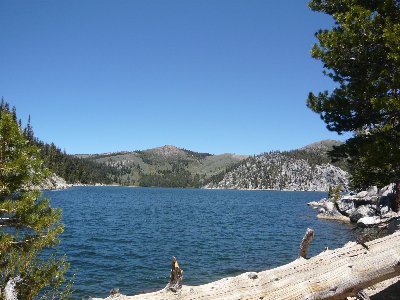 Lake Marlette
I drove the car up to Spooner Lake – toward Lake Tahoe. I found a bike shop, where I rented a full-suspension, specialized bike. The trail was amazing and went up to 600 metres above Lake Tahoe in the direction of Mount Rose. The lakes are so colorful and riding along the narrow trails through rocky terrain was spectacular.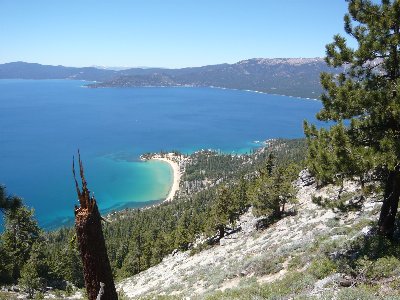 Lake Tahoe with Sand Harbor
Along the trail, I met Jim and Mitch — one from Toronto and the other from this area. They both told me a lot about biking around the Lake Tahoe area, for which I was appreciative. You can check the website here: www.theflumetrail.com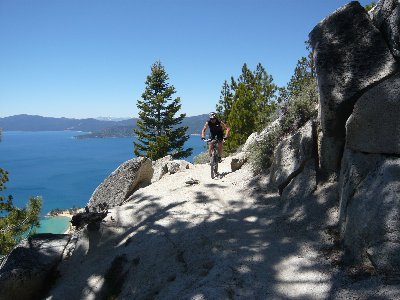 That's me! ;-)))Greetings from Lake Tahoe,
Martin
Day 43, June 11, 2008
After a great breakfast, Ursula and I tried for ages to get a live stream for the Euro soccer on the PC/Mac, but we were unsuccessful. We felt there was no chance of finding it on American TV, but tried that anyway as a last resort and, guess what? We found it immediately on ESPN! Unfortunately, there was only 5 minutes of the game left!!I cycled to the pool at Bowers Mansion, about 3 miles away. It was wonderful – nice and warm and there was a bright blue sky. I swam a few lengths before lying in the sun. It's a tough life!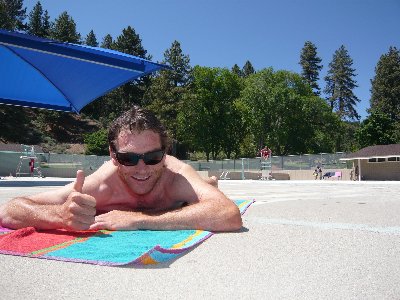 In the afternoon I went shopping with Ursula and bought some Ahi tuna for dinner, which I prepared with soy sauce and pepper, mmmmhh.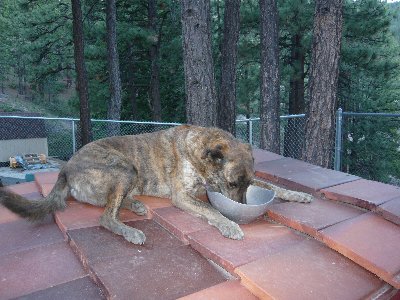 Mocha — eating al fresco!
Martin
Day 42, June 10, 2008
Today was sooo laid back… It's a rotten life for this lazy traveler – ha ha!
I laid in bed, then ventured into the house. Richard had already left for work, but he had left me a bowl of cut-up fresh fruit for breakfast. What a great host!
Wearing my swimming shorts on this fine day, I drove to Carson City (capital of Nevada), which is not too far away and found a Starbucks. Yay!
I had hoped to use the local pool, but it is closed on Mondays. Oh well, there is always tomorrow.
When I returned to the house, I helped Ursula in the garden and later took a couple of bike rides to keep my muscles in check!… I must keep up the exercise!
Again, thinking of the soccer; I say, HOPP SCHWIZ! [Go Swiss] on Wednesday!
Day 41, June 9, 2008
With not too many kilometres to go to Lake Tahoe, I started out at 10AM, but first, I had to fill the gas tank. Unfortunately, my EU credit card would not work in any machine! I had also forgotten my PIN number!!! To my relief, I finally found a bank that accepted the card and gave me some cash. The trip north led through hilly and wooded terrain and I was soon at Mono Lake, which is not far from the famous Yosemite National Park – home to the giant Sequoia redwoods.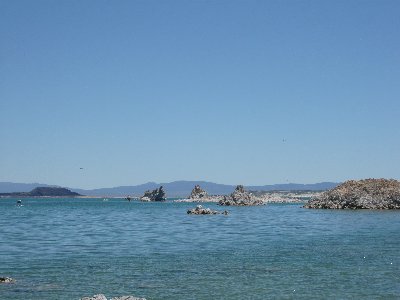 Mono Lake, with its bizarre rock formations
Located in California's spectacular Eastern Sierra, Mono Lake is an oasis in the dry Great Basin and a vital habitat for millions of migratory and nesting birds.
After crossing the border from California back into Nevada, I finally arrived at Old Ranch Road (Washoe Lake) and was greeted by Mocha and Tycho, who barked excitedly. Every time I visit here, it's like coming home! I have known Ursula and Richard for almost twenty years and they are dear friends.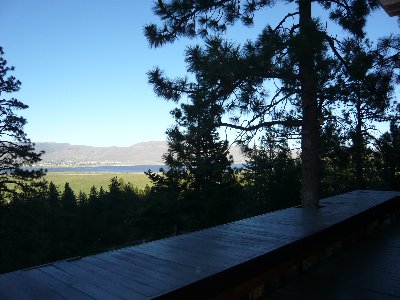 My home for the next few days with a view of Washoe Lake, Nevada
While Richard and I took the dogs for a walk, Ursula prepared a wonderful dinner… a delicious salad, then salmon with rice and asparagus and a glass (ok, two) of Chardonnay! Mmmmmhh!
Greetings from wonderful Washoe, Martin
Day 40, June 8, 2008
Today I rode like a rocket!! I travelled 450km from Las Vegas to Bishop!! 450km??? Yes, no joke! But see why…¬†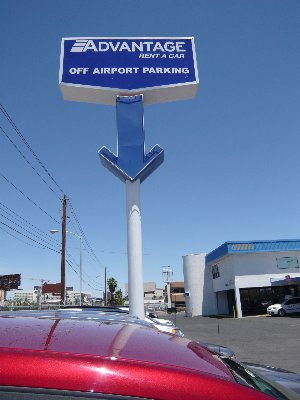 ADVANTAGE RENT A CAR!!!!!!
Correcto! I rented myself a car!! The reason is because I got to Nevada way ahead of schedule, which meant that, had I continued on, I would have been at the Pacific Ocean before Liliane arrived there. That is a 'No-No'!!! So, I decided to take a break and visit my friends Ursula and Richard in Lake Tahoe. After that, I will drive back to Vegas and continue my planned route on the bike. My goal is to be at the beach on June 25th and to cycle onto the sand and run into the Pacific Ocean!It was amazing to travel by car today after so many days on my trusty bike. Death Valley is quite amazing – but should not be tackled by bike near the end of a marathon journey.
Greetings, Martin
Day 39, June 7, 2008
I still had to cycle 175km through the desert to Las Vegas! I set off at 7 AM and it was already warm. By the afternoon, the temperature was 35C (100F) degrees. It felt like a furnace – with no cloud cover and burning heat from cycling, but I proved to myself that I can handle the desert sun! The first 38km were terrific – the wind was mild, the desert was incredible and my music completed the high!
The last 120km took me to Lake Mead. The road twisted left and right and up and down, but I never saw a lake! It was completely dried up and lonely boats sat there on the rocks. But I did find a little oasis! I thought, 'Great – I can go for a swim!' Unfortunately (or, fortunately) I read a sign which said it was unsafe to swim because of bacteria. Booo!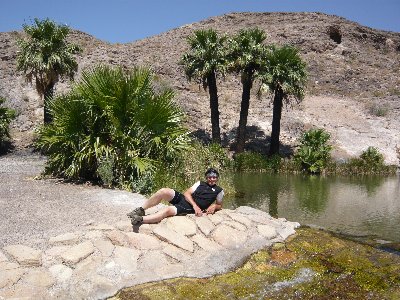 This stage of my journey had been very hot, but very impressive. There is special feeling to the desert.Soon, as if from nowhere, emerged the giant metropolis that is Las Vegas. It seemed like a mirage and is equally unreal! I found myself an air-conditioned room and kicked back. Ahhh! I ate, and I drank more water – on top of the 4 litres I drank during my ride – plus orange juice and Red Bull (hic). I'm still holding my head high – even though Switzerland lost the opening EURO football match on Saturday — and our captain (below) went off with a knee injury . But, we are still in the tournament! Go Swiss!

All the best from the desert, Martin
Day 38, June 6, 2008
No pictures from Friday and barely a comment! It was a free and very rough day (ha ha) — a lie in bed, good food, drink and relaxation. I did not even spend a cent in the casino. That was all I did!
HOPP SCHWIZ! [Go Swiss!] in the football.
It is now 6.30AM on Saturday and I am about to drive through the desert – Death Valley!!! Text me!
Day 37, June 5, 2008
The night was stormy and rainy, but the bad weather was only local. After the usual procedure of packing, then consuming latte (that's me!) and croissant, I set off shortly before 8AM. The first 40km were slightly downhill through the valley and the heavens smiled down on me.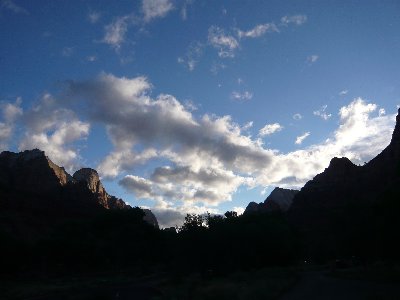 Soon, the landscape changed significantly, transgressing into sparse flora and a stony terrain. Utah was over and Arizona/Nevada were on the horizon.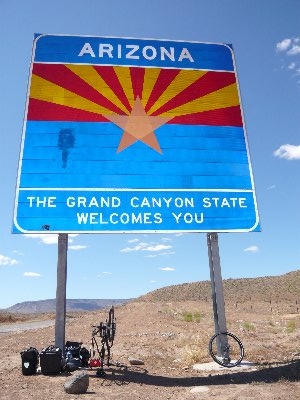 As I approached the Arizona state line, I had another flat! I couldn't find a puncture and I checked and tried everything – finally using my sealant and that worked great!
The last 85km of Arizona were ahead of me and for 15km of those I had to ride the freeway, which was filled with traffic! It was tough traveling through the canyons with the roar of the heavy traffic thundering above me across bridges. Where do all these trucks go?
After 130km today, I reached the Nevada state line and saw the first casino/motel.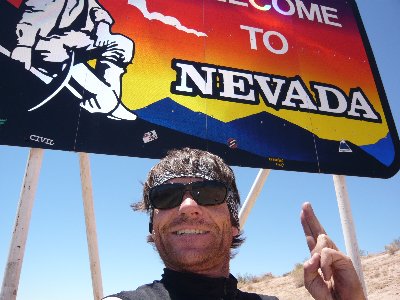 The hotel rates are reasonable at casinos – but these can get expensive if you gamble! That's why it is best not to! I have booked for two nights and will just relax, relax, relax!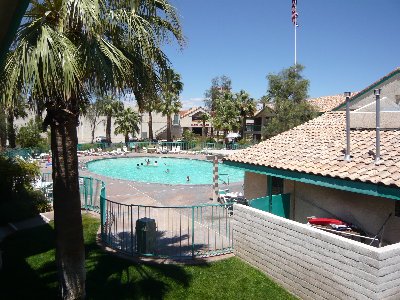 I'll give you three clues as to what I will be doing here — splash, splash, splash!
Greetings from toasty Nevada, Martin
Days 35/36, June 3/4, 2008
Hello everyone,
After two days I have found another wi-fi hot spot!
I started my ride yesterday a little later, as it was only 20km to Bryce.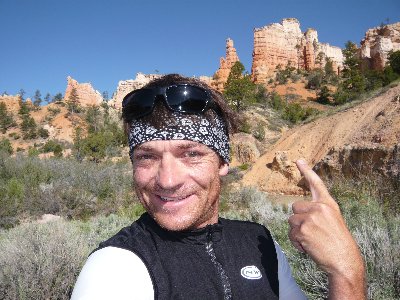 Since I arrived at the campground in the morning, I was able to pick my spot amongst the pine trees. The beauty that is Bryce is at 2,500 metres and wasn't visible from the campground, so I pitched my tent and, armed with my camera, ventured up the canyon. Soon after leaving the forest I stepped onto the edge of this magnificent canyon and looked out on a totally different world. The fascinating variety of rocks and flora is breathtaking.
I'm sure it would be even more exciting if I had the time to hike through this monument.
Oh, and by the way, I have now cycled 4,000 kilometres!!!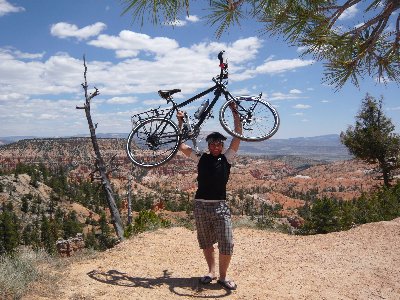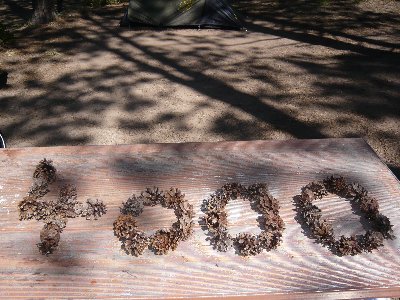 Today, I got up early, since I wanted to complete my next stage — to Zion National Park

To my disappointment, the sky was dark grey and the wind whistled through the trees…. so, here I am telling you about the wind again! The worst thing about the wind is that it sounds so loud and much of this is due to the noise it makes through my helmet! Disgusting!
By afternoon, I reached the entrance to the Zion National Park. Entrance fee $12. Chris had assured me that this was, "the park of the parks". And indeed, the 13 miles to the campground were a dream!! Everyone should visit at least once in their lifetime! I soon reached a tunnel where I was stopped and told that no bicycles were permitted. In the nearby parking lot was a car with a bike rack. The owner saw my predicament and kindly offered to drive me through the tunnel. Whew! It's so nice how everyone helps each other.
This park has a total of 289 bird species, 75 mammals (including 19 species of bat!), 32 reptiles and numerous plant species. Human habitation of the area started about 8,000 years ago with small family groups of Native Americans; the semi-nomadic Anasazi tribe who were basketmakers.
The road into Zion Canyon is 6 miles (9.7 km) long, ending at the "Temple of Sinawava". Sinawava refers to the Coyote God of the Paiute Indians.
I found a campground, but the weather worsened and the wind became gale-force. I retreated to a restaurant at a tourist center and now sit here in the dry and warmth – not wanting to see my tent for a while – or I may howl like a coyote!
Zion National Park gets 2.7 million visitors a year, so it is well-equipped with food and supplies for tourists like me!
Wishing you all a beautiful day from Zion, Martin
Day 34. June 2, 2008
Here's something I meant to tell you yesterday. When I returned to the campground, Chris told me about a waterfall I should see and, as we talked some more, we realized we had attended the same Bikram yoga studio in LA. Small world!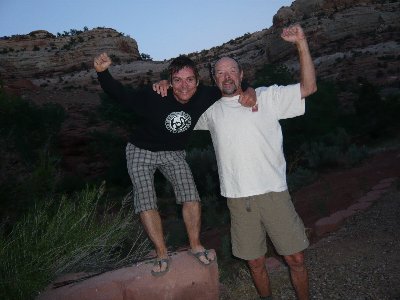 The waterfall was at the head of an amazing valley with walls hundreds of metres high. It was a wonderful display of nature in the late afternoon!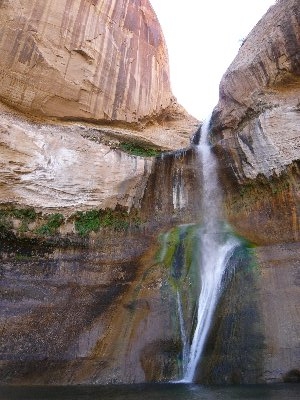 This morning, I got up early (6AM), packed and hit the road. I wanted to get a good start after the last leg from Escalante – fighting wind, increasing heat and steep inclines. The morning hours are fantastically beautiful. The air is cool, the light is magical, there is no traffic and above all, no wind! There is also blissful silence except for the charming sounds of nature.I cycled up to 2600 metres and arrived in Tropic, where I found a motel. Ahh, a bed and a shower!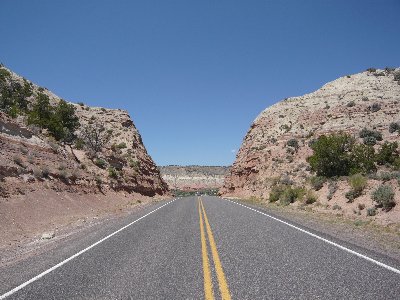 I am only15km from Bryce Canyon. After 6 nights in campgrounds, I basked in the luxury of a motel. What a relief! I then found a laundromat and now I have clean clothes too! I'm looking forward to reaching famous Bryce Canyon in the morning.Greeting to all from Tropic, MartinDay 31/32. May31/June 1, 2008Today, I am taking another day off! Aaaahhh! But, just like two days ago, I had to bike for coffee, cake and Internet — this time, it was 25km to Escalante. I am such a coffee/cake/Internet junkie!!!Escalante Canyon
The small town of Escalante was named after Silvestre Velez Escalante, a Franciscan missionary who, in 1776, was the first European explorer to enter this region of North America.Two days ago, I took a little hike. My campground neighbors had told me about an arch that I had to see. So, at sunset, I made my way up there in my flip-flops (cute or what?) and what a spectacle it turned out to be! Amazingly marvelous — you choose the adjective!!!
Pure peace! In 1996, President Clinton designated the Escalante Canyon area a U.S. National Monument. Go Bill! – Appropriately phallic, huh? I guess Bill liked it too!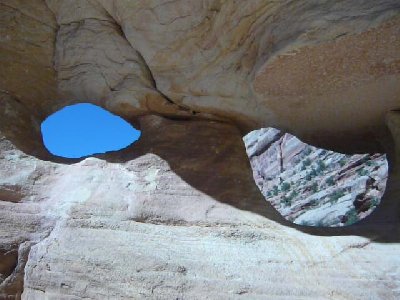 Yesterday, before leaving Torrey, I had two terrific croissants for breakfast. Then, I had an uphill climb into a totally different landscape. The scenery changed from red stones to round mountains covered in pine trees and I rode so high, I saw snow on the roadside once again.At 2,900M I met a man on a seat-bicycle named Wayne. He has been traveling this way for years and his bike/rig was impressively equipped. This was Wayne's World! He has biked through North and Central America and Europe too.
I rode on in the direction of Boulder (Utah, not Colrado) and found a super espresso cafe. I filled-up on caffeine knowing that there would be none at the campground that was just 15 miles away. These campgrounds offer only minimal supplies in the way of basic food, plus showers and toilets. The last 15 miles were amazing. Enormous ravines with brightly colored glacial rocks! Very very, impressive…. Finally I found the small campground at the Escalante River Рwhere country meets mountain and river! There, I met Conny and Thomas Рwho invited me for dinner. We had red wine in real glasses and sat by the campfire! We all enjoyed the quiet evening under a madly beautiful Van Gogh sky!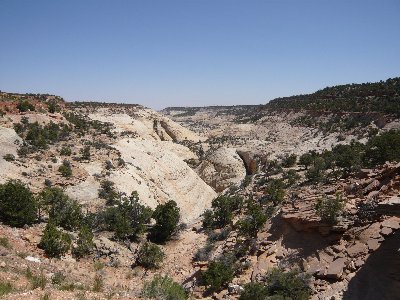 Many greetings from the wild west, Martin Day 29/30. May 28/29, 2008Hellooo, I'm baaaack!! I've had no connection to the Internet (or mobile phone reception) for two days. I am sitting in a small 'bistro' in Torrey, Capitol Reef National Park, Utah. I am taking today off, but I rode 15km from the campground to get coffee, a muffin and an Internet connection. Whew! I shouldn't really exercise in the heat of the day, but I have plenty to report from the last 48-hours!After I'd spent my first night in my tent in Green River, I felt quite fresh. I packed everything up and quickly checked my tires — and, guess what? They were both FLAT! How could that happen overnight? Well, I inflated them and hoped for the best. After completing 70 km, I turned south on the 24 by the San Rafael Desert, when my old friend, the wind, blew with ferocity! Murphy's Law – no matter what direction I turned, the wind turned against me. After two and a half hours, I was in the middle of nowhere and there was very little traffic. That was OK, but suddenly the front tire went flat! I unloaded all my luggage, then looked for a hole in the tire — and I found one! I was able to remove the tire thanks to Liliane's Super-Victorinox! I managed to pull out two nasty thorns and was soon back on the road.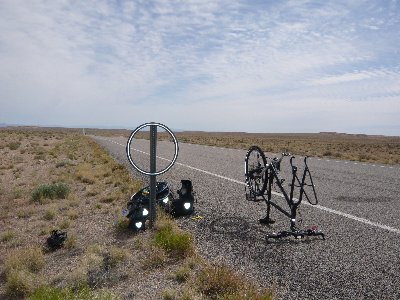 Everything felt good as I biked on — although I was afraid to even look at the front tire! Then I had the wind to fight. Luckily, Huntsville wasn't far away and I knew that there was a campground there. As I neared Huntsville, I saw, of all things, a cow –running in the middle of the desert! Very surreal. I found a restaurant in the town square and enjoyed a real American dinner! Back at the campground, I checked my tires and found that the back tire was flat! Fortunately, I was now an expert at spotting holes and I soon found the culprit!I slept great. The birdsongs and the morning sun woke me up and I ventured into Capitol Reef National Park — not too far away. I looked forward to spending time enjoying this beautiful area. I packed the bike bags and felt serene, but that was not to last! The rear tire went flat! Jeeze — I traveled 3,500km without a problem; now this! Thankfully, I found the hole quickly and got going again. And what a beautiful landscape!!! I had seen all the colors and the rock formations from miles away, but they were now in my breathing space – in my face. I could drink them in and enjoy their beauty like you can't imagine! So spectacular…. you should ALL do this!!!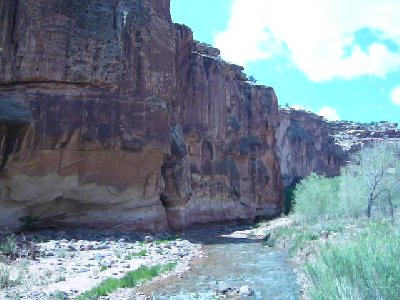 Out of the blue, I saw a small wooden house with a sign that said, 'Fresh coffee and fresh baked bread.' I'd had no breakfast, but was this place open? Halloo, anyone here? Then, out came Randy, the owner. He grows fruits and vegetables and sells them locally. He has been doing this for 12 years. The coffee was fresh-ground and tasted heavenly! We talked about God and the world and it was wonderfully inspiring. I bought his fresh bread — real manna from heaven!!!

When I went back outside, I embraced the amazing and overwhelming scenery. I could have been in my childhood watching Bonanza, but this was far better than Hollywood – THIS WAS THE REAL THING!
Love and greetings from red rock country, Martin
Day 28. May 27, 2008Utah – and a desert-camp!The wind calmed to just a whisper today. What a difference that made to my beautiful ride. The sky was steel blue as I cycled into the desert and I was at the Utah border by 10:30AM. The road was totally isolated and only partly paved, but here I am at the border marker.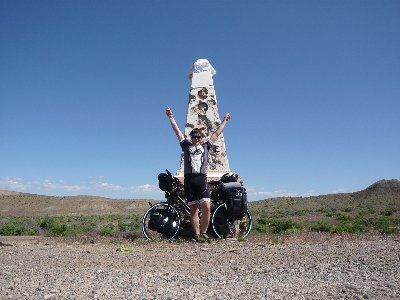 There were no buildings, no cars, absolutely nothing but miles of sparse terrain and monumental rocks on the horizon. The varied colors and gigantic shapes were breathtaking! It was a wonderful morning spent in virtual silence with just the chirps of crickets and birdsongs filling the air!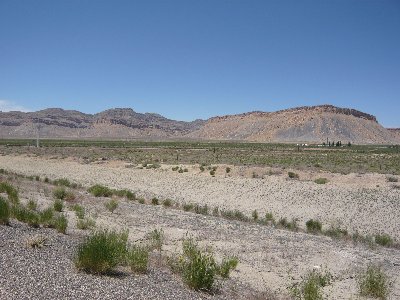 Shortly after noon I had to get back on Interstate 70, but the traffic wasn't bad and it was a very easy ride. Even though the sun was shining and I was in the desert, the temperature was ideal. I rode 100km on the interstate and there was a gas station at about 50km, so I took the opportunity to stop and buy a half-litre of Red Bull… mmmmm, it tasted SO good.I finally landed in Green River (former home of the Shoshone Indians) and found my first campground! It was beautifully shaded by poplars and had tables and firepits. My BBQ was delicious!!Total kilometres for today were 170. Pretty good!!This is 'Rabbit-Tail' – a brave Shoshone.
This is Martin – a brave camper!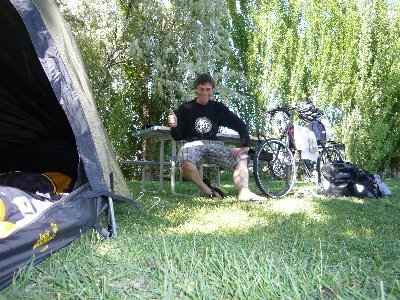 Yesterday, I decided to reroute to Las Vegas. I have studied the map very carefully and taken into account the sights I want to see along the way. That means I will be traveling through Bryce Canyon and Zion National Park in the next few days. Yikes… what's in store for me?!
Greetings from my beautiful camping spot.
Day 27. May 26, 2008
This morning passed quickly and the wind was actually with me – but only until my first break at 10AM! After that, she blew against me with full force. One step forward, one step back! Ha ha.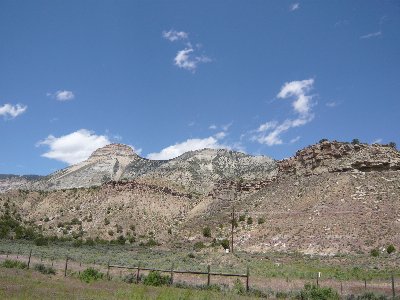 On a long, straight stretch, a cyclist came towards me. As she grew closer, I could see that she was riding a 'seat-bike' and she carried a lot of luggage. She stopped and introduced herself as Kelly, from Rifle Colorado. She was on a training ride and intends to make bicycle trips to Oregon and Alaska. It was cool to exchange stories. We took photos of each other, then bade our farewells.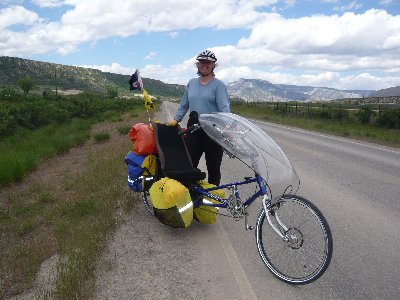 Here I am below, battling the wind. Without you, mother wind, I would do so well!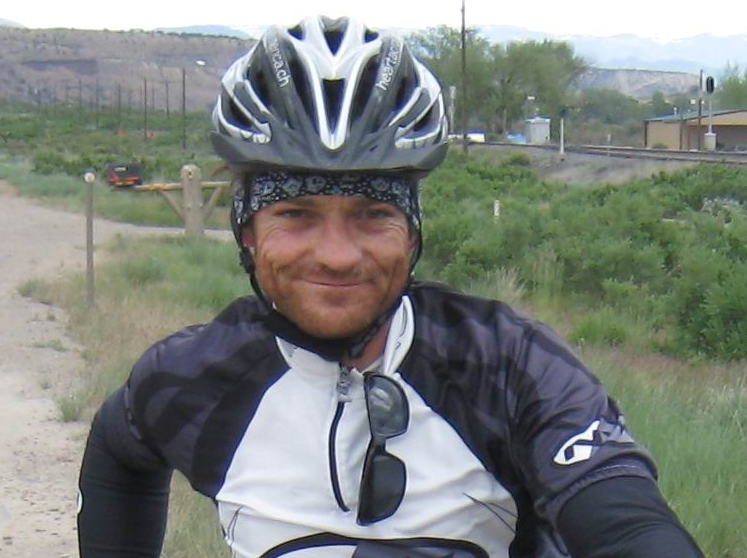 Luckily, the last 30km of the day went beautifully and I easily rolled along the winding Colorado River through enormous ravines. I am so impressed with what nature has created in this magical state.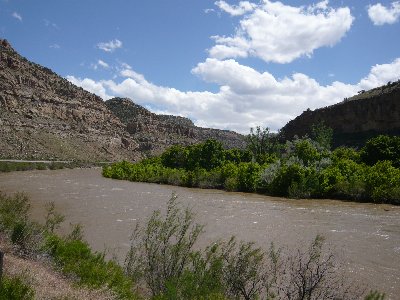 After 135km I landed in Clifton, which lies just east of Grand Junction and ahead of me is Colorado's wine country! I have now decided that I will take the road across the desert to Las Vegas. For these next few days I must study the map precisely, because there are long stretches of desert with nothing but tumbleweed, heat and dust. The prairie dogs are calling me!
Windy greetings from Clifton, Martin
Day 26. May 25, 2008
Today, I became Indiana Jones!
The morning started smoothly when I took the bikeway through the marvelous terrain of the Colorado mountains. The bike path led me up Copper Mountain to the Vail Pass (3,360M). There were several bikers on the trail and I had a long conversation with one of them although at this high elevation, it was difficult to cycle and talk at the same time – unusual for me. But I am a mere man… and multi-tasking is always difficult. Ha ha… (Yvette is writing this!). The going was a bit arduous on the slalom-like track, but — 'what goes up, must come down!'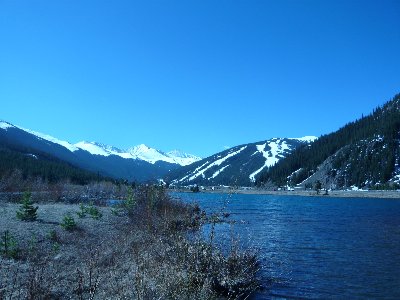 It was an incredibly long but speedy descent to Vail. So coooool! My ride, with the wind at my back, was unbelievably exhilarating. Unfortunately, this was not to last! As I left the high alpine area, the wind came full in my face — aagh, once again!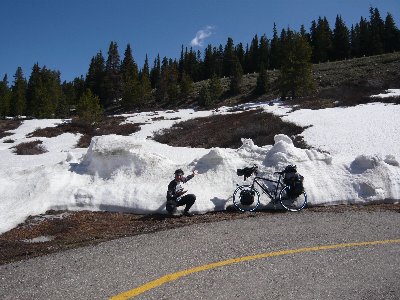 The last 40km of bike path along the river should have been easy enough, even with a headwind, but I was unprepared for bureaucracy AND for Mother nature!
To my dismay, the bike path for this stretch was closed! As I was not allowed to ride on Interstate 70, what could I do? Go back? NO! I decided to take the bike path anyway. I rode alone through spectacular ravines, but soon the forces of nature began to roar. The river raged and threw logs and branches across my path, then, half of the forest was strewn in front of me. But I had to battle on. The river turned into a roaring beast and I took refuge under a bridge. The strong flow kept coming at me and I clung to the concrete wall then inched along, pushing the bike. The water was up to my calves. Needless to say, I was unable to photograph this spectacle, so you will have to take my word for it!
Finally, out of the melee, I gratefully rode down into a different landscape and I am now in Glenwood Springs – home of famous caves and hot springs.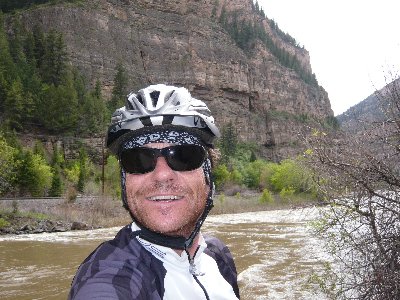 Here is a video of Interstate 70 through Glenwood Canyon. I-70 is the road I was banned from, but you can see the terrain here: https://www.youtube.com/watch?v=H2ELpWj6-jw
Tomorrow, slowly but surely, I will begin my roll into Utah and face the mighty desert. I am glad to be alive!
Greetings from Glenwood Springs, CO. Martin.
This is Glenwood Springs from the top of the mountains…
Day 25. May 24, 2008
Today was absolutely my most beautiful day so far – and that was after I had shaved!!! In the morning, I left Idaho Springs – height 2,230M. The weather was still fresh and windy and the quiet road led me along a beautiful mountain stream. This scenic road looped through mountains and magical forests.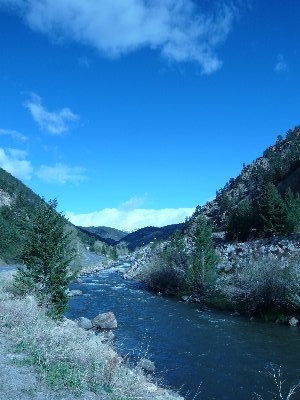 Unforunately, I had to navigate the freeway for a short time in order to forge ahead. I was on there for just a short time when I heard sirens screaming behind me — cops? Yep, the Colorado P.D! Officer Skidmore made it very clear that cyclists were not allowed on this road, but I behaved like the charming tourist and said I had no idea. He explained the rules of the road in detail and decided not to site me. Whew! He then explained the best way for me to get to Loveland. To my surprise, Officer Skidmore then gave me another map of Colorado. Nice guy! … Here he is…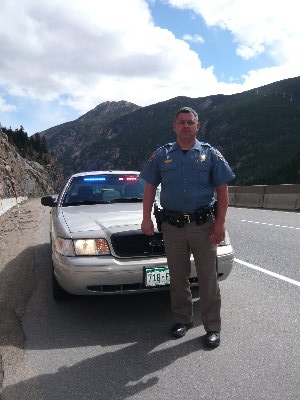 After a never-ending uphill stretch with occasional snow (which was actually quite comfortable), I saw more and more cars heading up the mountain. Lots of people had snowboards and various skis – both for downhill and cross-country skiing. Then I came across a ski resort that was still open and everything looked like home to me! When I finally reached the height I had set myself, I saw everything familiar to skiing – machines, snow-boarders, skiers and even a Swiss mountain dog – a Berner Sennenhund, just like the cute ones below!
At 2,600M I found a fantastic bikeway (bicycles only). Wonderful! Now I must concentrate on San Francisco, but before that I will look forward to the tourist town that is Vail, CO. Tomorrow is another day – and I will bike up to 11,000 feet! Well, all I can say is, I love you beautiful Colorado!!!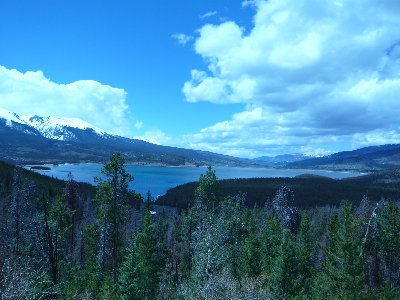 Greetings from this fantastic mountain world, Martin.
Day 24. May 23, 2008
After a restful day in Golden Colorado, I decided, at around 3:30PM, to ride to Idaho Springs, which appeared on the map to be a short enough distance away. Unfortunately, I did not realize bicycles aren't permitted in the tunnel, which meant a diversion of 35km and an upward climb through snow flurries and rain! As I approached the entrance to interstate 70, I saw a woman taking photos from the side of the highway. Her car had bikes on the roof – so I knew she was a kindred spirit! Her name was Jeny and she explained the simplest way to the first of the gold mines.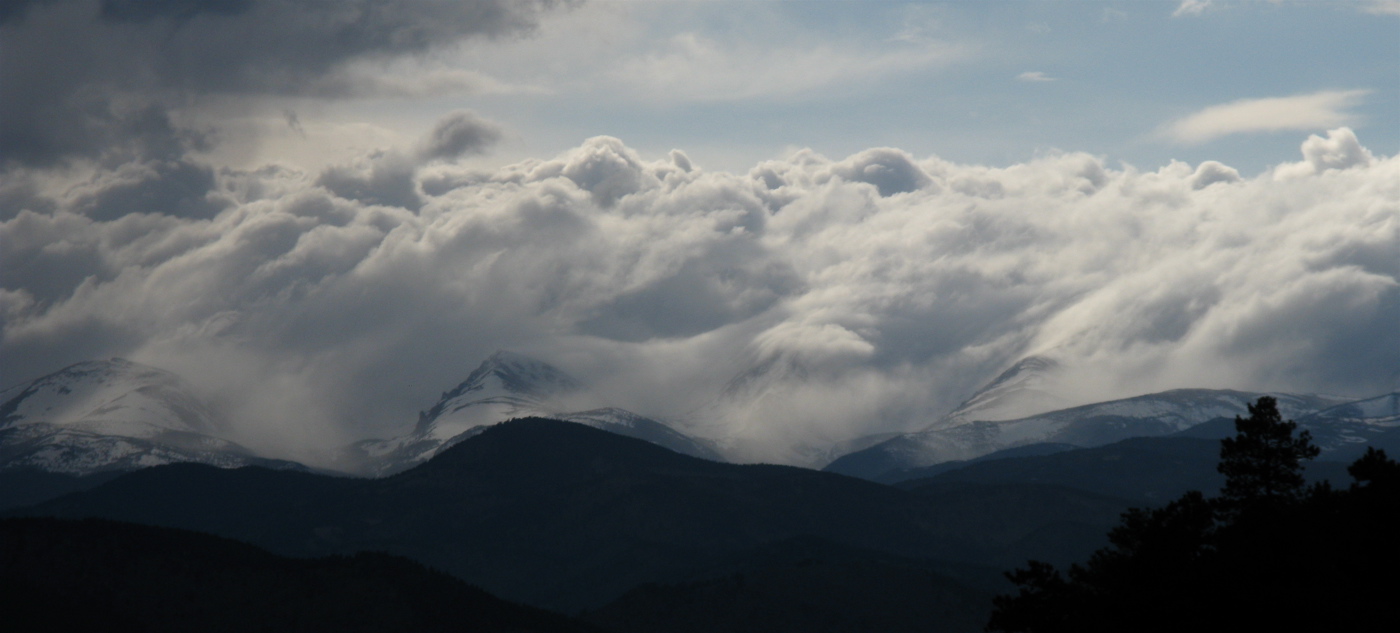 Check Jeny's fun blog here: www.jenyjomtbbliss.blogspot.com
Even though the ride was harder than I thought, you can't believe how marvelous it is to be in the mountains! It is an indescribable contrast to day-after-day of flat and boring roads.
Happy Martin… mountains ahead!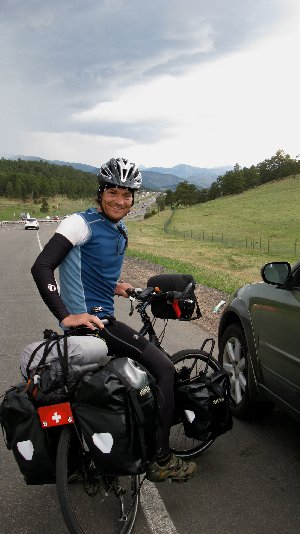 Last night Annelise welcomed me to Idaho Springs and made me bruschetto, salad and pasta! Delicious!!! Thanks!!
It is now Friday morning and I am in the lovely coffee shop. It is very restful, but there is work to do; change tires, clean chain, repack, send part of my luggage on to Los Angeles and plan the exact route for the next stage. The roads go up to 4000M and snow is in the forecast. Super!
Have A great weekend!!! Martin
Day 23. May 22, 2008
Greetings from Golden, Colorado – an old gold rush town.
I'm sitting in a marvelous cafe in Golden, Colorado and can see the Rockies up ahead. Last night I ate another delicious burrito, then returned to the comfort of the Strasburg Inn. Since I only had to complete 90km today, I set off later than usual, at 9:00AM. Jim, the inn's owner, told me the best way to go and gave me extensive information on Colorado. He asked me how far I aimed to travel on my first mountain stage and then told me that he owned a house in Fraser, which is about 20 miles past that stage. It is in the Berthoud Pass – elevation 12,000feet. To my surprise, he said I was welcome to stay there. He gave me a map showing where the house is and where the key is. He explained how the fire should be lit and how the heating works. I couldn't believe it and I started the day in wonderful spirits! Friday will be my first 'rest' day, then I can look forward to a lodge in the Rockies!! I will enjoy today's sunshine while I have my bike checked. Joy prevails!!!
| | |
| --- | --- |
| | South Table Mountain, Golden, Colorado |
Day 22. May 21, 2008
I looked out of the window and wondered what might happen today. The sky was dark grey and the trees rustled in the wind, but I figured, it is what it is… I can't change the weather! As I swung onto the saddle, things changed! To my surprise, the wind came up behind me and pushed me through 120km by lunchtime! The sun was then shining, but after lunch, my route changed direction – as did the wind! The last 60km – to Strasburg, CO – were really tough. Far in the distance, I caught my first glimpse of snow on the mountains!
Strasburg's claim to fame is being the place where the last spike was driven to complete the Trans Continental Railroad.
I found lodging in an old hotel – built in 1915, named The Strasburg Inn.
My fancy bathroom!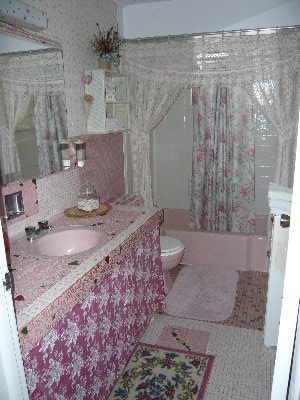 Only 80km to Denver!
Best wishes, Martin
Day 20/21. May 19/20, 2008
Hello all!
After two days I finally found a computer hotspot! It is now 5:30PM and I'm sitting in front of the high school in Idalia Colorado.
I am now in my 9th state and have completed 2,734km!! [1,699 miles].
When I wrote my last report I hoped that the wind and landscape would change…. and my wishes came true! Shortly after Holdrege, the landscape changed marvelously! There were welcome bends in the road and virtually no massive farms. There are no mountains yet, but at least no straight roads reaching far into the horizon!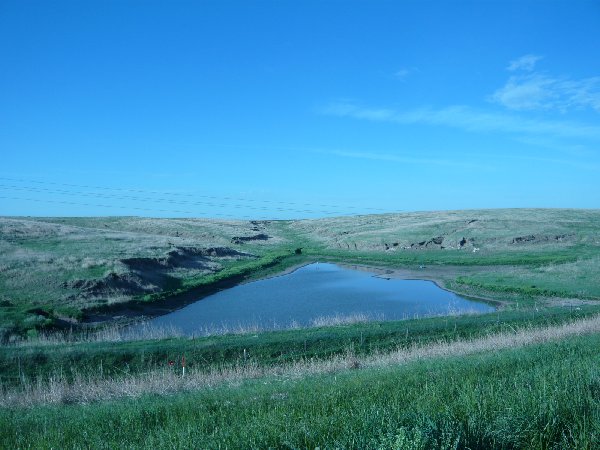 Temperatures rose to around 90F, which means that the wind is not as cooling as before. The wind also changed direction by 180 degrees, blowing from north to south. Today had I two 30-mile sections riding south, so again, I had to face my old 'friend' the headwind.
I still have approximately 150 miles to go before I reach Denver and then… ta-da…I will face the mountains!!! I will stop in Denver for a day to plan my route properly and to forward part of my luggage so that I can travel lighter.
Thanks to everyone for your messages and greetings, which I love!
Best wishes from Idalia, Martin.
Early construction workers building my route through Idalia!
Day 19. May 18, 2008
Hello everyone, today is Sunday and it seems nobody works on Sundays in this part of America!
My cycling day finished early – at 1:45PM. The road was flat and I traveled through vast farm country, but I managed only 90km. I'll give you three guesses why — wind, wind, wind! The never-ending story!
I saw giant grain silos (maize). The farmers load the grain directly into special rail containers for shipment across the country. There were about 50 containers waiting to be loaded at one farm.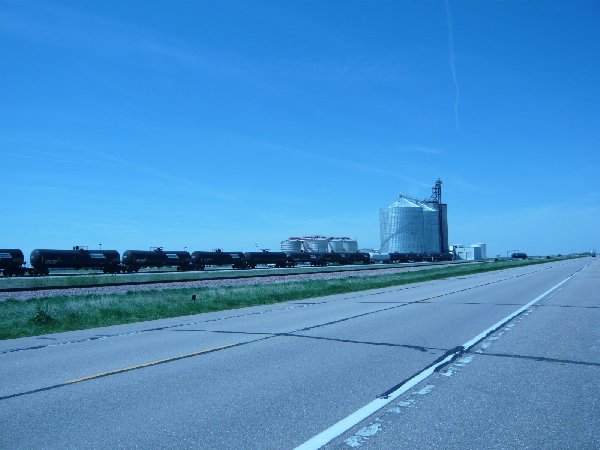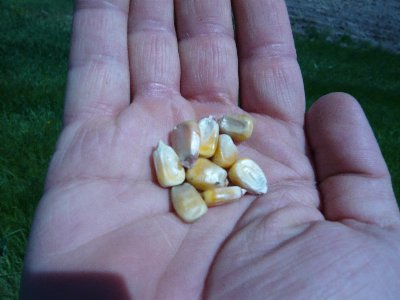 I'm sure my reports will get more interesting once I reach the mountains!
Day 18. May 17, 2008
Ay-ay-ay'Ķ. I did 120km today, but I had to work so hard for it! The weather was beautiful – pleasantly warm – and the road was completely flat, but the cross-wind was about 20 knots. Progress was SO hard. Some of the time I pedaled and simply did not move forward and much of the time I pedaled standing up. It was my longest time for this distance. Maybe it's good training for the Rockies!
For the first time since I left New York, I met a fellow cyclist. His name was Doug and he caught up with me just before Hastings – the birthplace of Kool-Aid! Doug had a wonderful, lightweight Lemond racing bike, which made me jealous because my bike is a donkey by comparison! We chatted for a while and he gave me a powerfood bar. Maybe power bars will get me through the mountains!
And to Blue Blue: You are my one and only!!
Cheers from wind country

Martin
Day 17. May 16, 2008
This morning's weather started out perfectly – a deep blue sky and no wind! Even though I'm now in Nebraska, the terrain hasn't changed. It is relatively flat with a few slight hills.
As the day progressed, wouldn't you know it, the wild wind came up and hit me head-on. I am reluctantly accepting the fact that the west to east wind will prevail across all the states ;-(
With the help of Yvette (LA), Ursula (Reno), Anne Lise (Denver) and Serge (Truckee), I have planned the best route through the Rockies. I may send part of my luggage forward. I have decided it will be too heavy for my journey across the mountains where I will need to travel as light as possible.
A typical straight stretch of road…
After completing 110km (not too bad against the wind!), I arrived in Crete, which is a Czech-American town, first settled by immigrant Czechs after the American Civil War. Nestle, well-known to we Swiss, has a huge manufacturing plant here.
A sweet Blue Bear in Crete!!….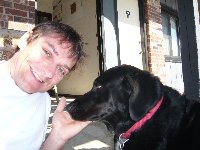 I wish you all a good weekend!
Day 16. May 15, 2008
After yesterday's mammoth stage, I was not quite sure what might be a sensible distance to attempt today. This morning's weather was beautiful, so, from 10AM, I was able to ride in shorts and a short-sleeved top. Too cute, I can tell you!! I progressed easily – with no effort and no interference from that wicked wind! The roads were similar to previous days — lots of flat straights and a few bends. After 107km, I reached Nebraska City, Nebraska – I was in my 6th state!People have been very friendly. They wave to me from the roadside and from their tractors, cars and trucks. Whenever I stop in a shop, a gas station or motel, I am asked where I'm going and people are always pleasantly surprised to hear that I am riding my bicycle across America!!! The men here in the Midwest still wear moustaches and in the countryside you see more and more cowboy hats.The Wild West lives on!I am now in the Long Home Coffee Company, in downtown Nebraska City. It is heaven! Imagine this — it is 4PM and I have already showered and am enjoying some delicious coffee here in cowboy country! My first 'real' coffee since I left Switzerland!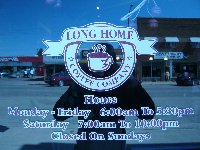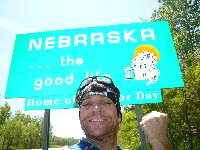 Nebraska City sits on the western bank of the Missouri River. Prior to the Civil War, Nebraska City was noted as having the territory's largest population of slaves. Slaves were first bought and sold here in the 1850's. A sad legacy, now part of America's history. I am biking through history with a smile on my face and new hope!
This was yesterday — after my mammoth stage!!!Day 15. May 14, 2008
I thought today would be a short leg. This morning was sunny, but my old friend the side-wind was particularly strong. Also, my back was aching… I guess I've been pushing myself too hard.
Around noon, the wind calmed down. Later in the afternoon, I couldn't find a motel, so I rode on… and on! Finally, I reached Bedford, Iowa, which is close to the border of 4 US States – Iowa, Kansas, Missouri and Nebraska.
I rode 203km today!!! I have cycled over 2,000km and am now in Bedford's Country Home Inn.
Bedford is a small, historic town in the middle of Indian country. It is famous for its many antique stores.
Best wishes for today, Martin
Bedford Court House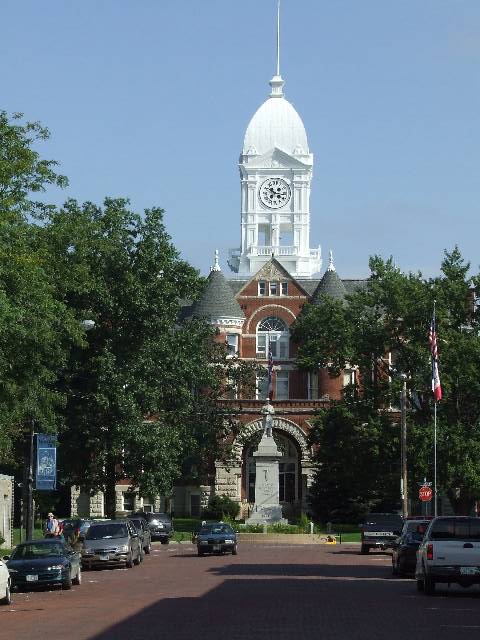 Day 14. May 13, 2008
It is unbelievable to think that I have already spent two weeks on the road and have 1,800km behind me!
Time flies by and I had a super schedule today. There was no traffic through the countryside, but the sky was dark and threatening. Luckily, I rode faster than the clouds. Tee-he! Unfortunately, the strong side-wind persisted, but I pedaled on – like the hero that I am! Ha ha!!
After encountering a headwind, I stopped for a coffee break in Fort Madison.
The original Fort Madison was burned to the ground by its own soldiers as they fled from Native Americans – led by Chief Black Hawk. The Americans had lied to the Indians about supplying provisions. Black Hawk taught them not to mess with the Sauk tribe! My experience in Fort Madison was more pleasant, but unusual. The coffee shop contained a laundromat! A man in his mid-forties, named Brian, asked me where I was from. He wore shorts, was slightly unkempt and his eyes flashed from left to right. I thought he must be mentally retarded, but when I told him I was from Switzerland, he surprised me by telling me about Switzerland's many mountains and went on to mention the Matterhorn, the Gotthard Tunnel, Lichtenstein & Vaduz (including banks) and Thomas Frischknecht. I was astonished! In the middle of nowhere, here was someone who knew so much about my little Switzerland. I asked him where he learned all this, but he didn't find my question amusing!
From Fort Madison, I left the big river and rode due west to Bloomfield.
The bike, GPS, and the bags are all in perfect shape – knock on wood! And still no damage to me either! May my luck hold all the way to California!
I'll do everyone a favor by not showing any photos of myself today!!! But I can assure you that I have shaved and I am wearing clean clothes!With greetings from Bloomfield.
Day 13. May 12, 2008
The difference in the weather could not be more diverse. Yesterday was hell; today is heaven! I had blue skies all the way…with comforting sunlight and the kind wind behind me. Even the traffic cooperated — nothing bothered me and the road was my own!
I made a short stop in Roseville and studied the map. I am now in beautiful Burlington and have reached my fifth state; Iowa!
Burlington lies on the vast and historic Mississippi River. When I biked crossed the Great River Bridge (seen below), I saw flashing Police lights behind me. Oops! The nice officer Hiller told me that riding a bike across the bridge is illegal! So, how was I supposed to cross 'Old Man River'? Luckily, he let me go on my way!
Burlington seems a beautiful city, sitting right on the lazy river. Motels are (unfortunately) always a few miles away from the action and after a shower and shopping for food, I was too pooped to get back on the bike to discover the wonders of the city — as small and enticing as it was!
Martin
The Great River Bridge, Burlington, Iowa.
Day 12. May 11, 2008
Boy oh boy, what a day! The wind, the wind – that heavenly child! After my longest stage, I was about to experience my shortest! It had rained all night and the prospect for the day ahead looked very bad, but, to my amazement, it stopped raining. I looked outside to see that the streets were still wet, but that was OK. However, dark gray clouds gathered in the moody sky. After a telephone conversation with Mama I was ready to go.
The wind had shifted by 90 degrees, which meant it was coming in from my right-hand side. And how! It blew so fiercely it made cycling difficult. It became increasingly severe and then came the rain! It was no longer safe to ride. Fortunately, I saw a gas station and raced for cover. The wind roared and soon we had a monster storm. Even the macho motorcyclists sought shelter.
A biker named Rick, who was accompanied by his two war-veteran friends (all of them riding Harley Davidsons), showed me the bad weather picture on his Blackberry and it looked really awesome – in the worst way. But I decided to bike on!
The next city, Peoria, was about 38km away, but I just had to reach it. It was an absolute struggle. The road was flat, but it felt like the steepest hill I'd ever climbed. I pedaled hard but barely moved forward. I was frustrated, but finally reached Peoria at 4:30. A good time for today!
Now I have eaten well (including strawberry cake) and the world looks a lot better – as does the weather for tomorrow. No rain and no thunderstorms in the forecast. Hooray!
On the old Vaudeville theatre circuit, it was said that if an act could succeed in Peoria, it would succeed anywhere. I am living proof! The Indian name Peoria means, "comes carrying a pack on his back" Ha ha.
I wish you all a good week,
Martin
Day 10/11. May 9/10, 2008
Hello from Chenoa, Illinois!
Chenoa is the Indian word for 'white dove' and this small town sits on the historic Route 66 – now re-named Route 55 in this state.
There is nothing exciting to report from these past two days – except that this Swiss champion covered 308km!!!
Indiana and Illinois are flat flat flat and covered in vast farmlands. The fields are huge and worked by farmers on massive tractors. Swiss tractors look like toys by comparison. The weather was pleasant and the wind was at my back once again. I love you, tailwind! I took full advantage of this and rode most of the time in the triathlon style; arms on the handlebar and legs racing full-circle!
Looking at the map, I'm pleased to see my gradual progress.
Facts from the past two days:
Distance covered – 308km
5th US State – Illinois
New time zone – Central Standard Time (one hour earlier than New York).
Sunday is Mother's Day in the US. To all mothers and women everywhere: Thank you for everything and for being as beautiful as you are!
Finally: Even if I do not personally answer all postings, I am always so pleased to hear from you. I will, of course, answer specific questions.

Best wishes from Chenoa IL, Martin
Gettin' my kicks on route 66…… Downtown Chenoa in the summer!
Day 9. May 8, 2008
The heavens opened up this morning and it rained from every cloud in the sky! Luckily, I have the perfect rain suit from North Wave!
I convinced myself to get on the road and see how far I could go. To my amazement, I had a tailwind for the first time! Wow! I rolled along without any effort. The wind god listened!
At noon, I reached the state line and rode into my 4th state, Indiana, which is where I met Lori. She is a sheriff and she asked me if was lost (what a come-on!!!). Nice try, Lori. I showed her exactly where we were! I took a picture of Lori and her sheriff's car. Very butch!
When I cycled past my mileage of 1000km, I reached Fort Wayne – named after General Anthony "Mad" Wayne in 1840. Hmm, "mad" huh? I hope that's not contagious!
I finally said to myself, OK, that's enough for today and checked into a hotel at 3PM. Tonight, I have a pool and luxury conveniences to ease me out of today's wicked weather!
I'm Singin' In The Rain!!!….
"Let the stormy clouds chase
Everyone from the place
Come on with the rain
I've a smile on my face"
Ha ha!
Greetings to all.
Day 8. May 7, 2008
I began the day with no traffic for hours. Heaven! AND, the streets were in great condition. I rode through flat farmlands. It was really cool and I was happy to be away from yesterday's crazy truckers.
The dogs on the spacious farms were a pleasure to see. The names on the farms/ranches are amusing to me — the first I saw was Paul Zender and then the farm Zeiter and finally, farm Knaups. The list is endless, but the names are familiar. I realize now where many of the European immigrants settled.
A side-wind blew fiercely today – and it started early in the morning. After riding 85km I wondered if I should stay at the Hampton Holiday Inn, but it was only 1.30PM! How could I possibly waste half an afternoon ??!!! So I checked the next hotel and saw one in Ottawa, Ohio – 32km away.
I rode on, but the side-wind was soon joined by a storm which seemed to encourage its fierceness! I was almost blown off the road!!! I struggled to stay upright and pedal forward. It was exhausting and I was happy to reach Lee Bell after two hours of hard riding, but I had no network or mobile phone reception . Oh well.
Today I broke my first 1000km!…. Feels gooood!!!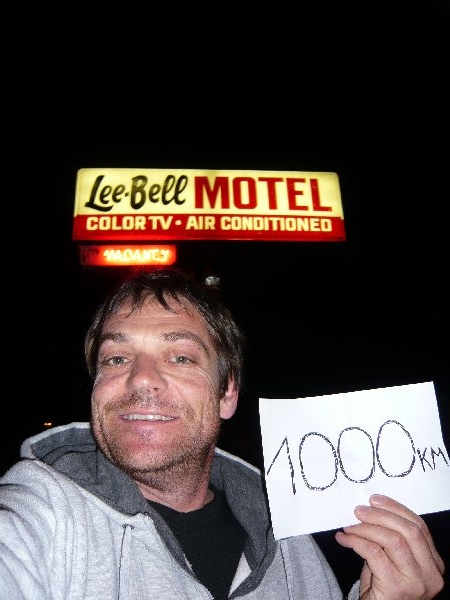 Day 7. May 6, 2008
I was expecting bad weather, with a storm helping my friend the headwind beat me back, BUT…. the whole day was wonderfully sunny and I was able to wear my sexy short shorts for the first time!Today I will definitely not check the forecast. When were weather forecasts ever accurate anyway? It was a beautiful day in a lovely part of the state. I got to enjoy it more because I took smaller roads. I saw a lot of wildlife – birds, butterflies, coyotes, deer – and all of them were alive! It is so sad how much road kill you see on busy roads, so this was a treat.I felt super and I seemed to flow along even with the ever-present headwind. Unfortunately, the end of the day was quite frightening as lots of trucks loomed up behind me and some overtook me soooo closely! I had to concentrate hard to keep as far right as possible and stay out of danger. At around four o'clock, I thought that I would be camping for the first time, so I fixed the solarcel on my bike to charge my electrical equipment. There were no hotels or motels within a reasonable distance. I finally reached the small town of Willard after cycling over 80 miles today! Not the short leg I predicted! Willard used to be called Chicago Junction because of the railroad crossing for the Chicago and Newark lines. Aah, Newark – where I started out! To my delight, at five o'clock, I found an unexpected motel! Woo-hoo — look out shower, here I come!Regards from Willard, Ohio!
Day 6. May 5, 2008
This morning I faced two problems; the prospect of thunderstorms, then navigating my way around Youngstown and on to Akron, Ohio. To my pleasant surprise, there were no thunderstorms and the ride to Akron was perfect!Leaving hilly Pennsylvania, I was relieved to see a flatter road ahead in the state of Ohio. Yes, today I reached my third state!
Unfortunately, my beloved friend, the headwind, was blowing all the time. So this is why all the sensible cyclists ride the opposite route across America! I will have to pray to Yaponcha, the Hopi wind god!I think today was national lawn-cutting day. Everybody was working on their lawn! From small muscle-powered machines to macho, engine- powered machines, they were all out and buzzing away. Fascinating!
Today, for the first time, I managed to find a hotel in advance using the GPS. I did this at lunch time and set my finish line at the Best Western in Akron.I completed 90 miles today! Yay! I don't really want to bore you with mileages, but distance is big issue for me ūüėČTomorrow will probably be a shorter day because of the weather, we'll see. More storms are forecast. Maybe I should have bought a canoe?
Lot's of love, Martin
Day 5. May 4, 2008At the aptly named Sheetz convenience store, I got my morning coffee – or should I say, 'brown water'? It was the Sheetz, man! I looked up at the sky and it didn't look promising: It was overcast and dark gray. The road was still wet from last night's showers… but I promised myself this would be a good day!
At around noon the sky cleared and I was in a good mood – even though I had a strong headwind and again, I faced undulating hills.One thing amazed me today – no traffic! What's up with these Americans? After a while it dawned on me – it is Sunday! Was everyone sleeping or had they all gone to church?
Then I noticed a difference from the weekdays; there were a lot of Harley Davidsons on the road. Now I realize that Sunday is Harley day across America!After 85 miles on the road and with the help of my trusty GPS, I found a motel in Grove City. The greatest reward after a long day's cycling is a shower (any shower!) and a bed (any bed!) ūüėČI wish you all a good day – just as mine was!
Day 4. May 3, 2008What a breakfast! Eggs and bacon, yogurt, toast & honey, fruit, and super-tasting coffee… everything I needed to set me up for the day!The weather was overcast but not too cold. I decided to do an easy day, no hard pushing after the last three grueling days, even though I have quite a distance to go!On an uphill stint, a Jeep pulled in front of me and stopped. The driver asked me for directions to Canada! Can you believe he asked a Swiss cyclist how to get to Canada? ūüôā He had a Mapquest printout in his hand, but of course I was able to tell him how to get to Canada!!! It helped a lot that I was once a Boy Scout. We know how to handle a map and a compass! Well, that's what I always tell the girls!Just after three o'clock it started to rain which was not bad at all. By four o'clock, I had checked into a motel. This motel was the pure opposite of yesterday's odorous place! It was almost as good as in NYC with Lilian, just ask her….. ;-(Anyway, I'm happy to have bed and shower and tomorrow I'll get close to Ohio!!Cheers Martin
Day 3. May 2, 2008 All morning long, the road was filled with heavy traffic and trucks throwing up dust and pollution. So much for the 'healthy' sport of cycling, but I pedaled on.After lunch, I rode into lovely countryside – traveling through farms and forests. It looked almost like Switzerland with cows, horses and agriculture. All of a sudden I saw a horse and carriage. I was in Amish Country! So special.In the middle of the afternoon I experienced my first crisis… I was completely disorientated. I didn't know if the road was going up or down or if the view ahead was different than the view back. Was I hallucinating? I decided to take a power-nap on my airbed. It was like a miracle and I soon got a second wind.I finished the day in State College, which means I rode 95 miles today!Check the Google-map on this website. I post a waypoint each day, so you can see exactly where I am!Talk soon, Martin
Day 2. May 1, 2008 The weather forecast for the next few days is not very good: Rain and thunderstorms!This morning was cloudy and cool, but nice for biking – even with a headwind. The terrain was up and down but OK. For almost the whole day, I rode double-lane roads filled with with lots of cars and trucks. Cough-cough!The one good thing about trucks is, that if you cycle behind them, they produce a slipstream effect which helps pull you forward. I took full advantage of that!After passing Wilkes Barre, PA, I decided to change my planned route. This was a shortcut!For the first time (but only for a short time) I had to wear my rain gear. It was 3 PM and I was looking for a motel… ANY motel, but…nothing. So I started to think of the first night in my brand new tent…. hmm! Clouds, rain, tent? Nooo! Finally, just after 5PM I found a motel. Yay!Slowly, I'm getting a feel for the routes and the roads. With the help of local maps and my GPS I will find the best way to California!Today I rode about 85 miles – which is more than the average I had aimed for. Hopefully, I'm not going too fast to begin with.
Day 1. April 30, 2008I started out in downtown Newark at 8AM. The weather was cloudy with sunny intervals and temperatures were in the 60's. Just like home!Heavy traffic and major roads made cycling a bit difficult, but I found my way out of Jersey!Thankfully, my maps and GPS helped me exit the East Coast's melting pot!At the end of a long and jet-lagged day, I arrived in Strousburg. I managed to ride about 75 miles on day one!!! Not bad for starters, but I won't get too cocky at this point! I'm looking forward to tomorrow.New York. April 29, 2008After an 8-hour Swiss Air flight from Zurich, Switzerland, I arrived in New York City! Customs and immigration were smooth and without problems. Whew!With my bike and kit packed into the back of a trusty "Noo Yawk" cab, I reached my first stop — a Marriott Hotel! I'm now in my room studying maps (including Google Earth) to find the easiest way out of Gotham City. Where are you, Batman?I'm filled with nerves and excitement. What will my first day of cycling across the USA bring?….